| | |
| --- | --- |
| last summer August 27, 2006 | 2006 Toronto Buskerfest |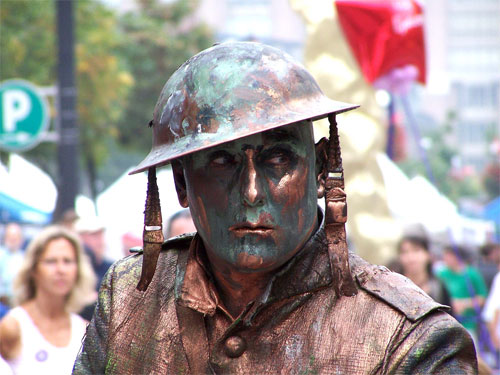 As we continue into the winter doldrums with snow, snow, snow and overcast days I think about some of the events that were the highlight of last summer.

The Toronto Buskerfest had some amazing performers like the guy above who became a bronze statue of a world war one soldier. Other performers included acrobats, jugglers and comedians. Click on any of the pictures below to see the larger pictures.

I also attended the Toronto Doors Open event, a war of 1812 reenactment, some air shows and Canada Day celebrations.

This year I would like to try to attend some of the following events: Toronto International Circus Festival, the Toronto Zombie Walk, Dragon Boat racing on Centre Island, the Toronto Pillow Fight at Dundas Square, The Toronto Buskerfest (Street Festival) and hopefully a few more.

Ann and I will also try to make it to the Graphics Canada Tradeshow in November to do some research for making her Lighthouse paintings into a series of limited edition prints.