---

Welcome to all our visitors to our web pages, please email us with where you are from and send us your pictures to! Many visitors are searching for lost relatives, if you have any connections to the people noted please contact them - it could be time for a family reunion.

Over 100 people a day view our site - some visited here, some lived here and some just get the thought of Acton in their head and had to explore the web - what brings you here?
---
I loved this happy coincidence - hi Erin!!!
Hi there my name is Erin Hamilton , yeah same name as your daughter!
I was just looking up some information on the Hamilton family because I was curious, there are only two members remaining in my family - my dad James , and his brother John. I just found it completely fascinating that my father looks sooo much like the James hamilton in some of these pictures, my dad's family also was active in the aviation forces of canada for a few generations, the pictures remind me of some that are in my house of my grandfather. not to mention my mother's name is Anne haha wow. Anyway I am 21 years old and i live in Toronto, i just wanted to say hi! Well i hope you all have a great day because you made mine an interesting one! From , Erin Hamilton
---
Hi -- In a roundabout way I have found your website ! I had gone to google, and was looking up Acton as I wanted to see if the newspaper there was still called The Acton Free Press. I ended up clicking on to Ann's page and I enjoyed looking at the artwork ! Then I noticed you had an Acton page which I thoroughly enjoyed ! My father was born in Acton. He passed away in February (in Fort Erie, ONtario) at the age of 94. When I was a child I used to visit Acton every summer and found it to be a wonderful small town. I remember my dad grew up in one of the duplex houses on Bower Street. And now im trying to remember the street where they built a house for my grandparents in about 1960 ---- but I found your map page too so will look that over too. One of these days i'd like to go back and visit Acton ! But in the meantime I am enjoying your site and all of the wonderful pictures and information -- thank you ! Colleen Hunnicutt, Charlotte, NC
---
Hi Folks - this is a bit of along shot! I am into genealogy and am currently 'stuck' in my efforts to trace distant cousins who went to Canada in the early (I believe) 1900's. I have photos from the 1950's or 60's taken in Grimsby, Canada. In particular I am looking for info on Nellie Hamilton (nee Marr) who married either Cleveland B (or Clive ?) Hamilton. My photo shows also their 'adopted son, David'. Nellie had sisters/stepsisters Eva, Dorothy and Ann. Nellie is believed to have been brought up in Glasgow, Scotland, and to be related to my gt. grandmother, Ann McNerney (nee Marr).
Any possibilty of Cleveland/Clive being a relation of yours? Any help would be much appreciated! Kind Regards, Ian Aitken-Kemp (from distant Bonnie Scotland). ianak@btinternetNOSPAM.com, remove NOSPAM to contact Ian if you can help in his search.
---
Quoting bob & barb. My husband is a former resident of Acton and we have been having a friendly discussion regarding the elevation of the town above sea level. Can you help?
Hi Barb. Usually the husbands are on the losing end of any discussion so hopefully this is not the case today. I put my handy GPS unit outside and got about 347m above sea level - which is 1138 feet. Checking Google Maps we see that Acton is around 1150 feet which is pretty close. Have fun, James.
---
Dear Ann and James,
I love your website! I grew up on a farm outside of Acton in the fifties and sixties. Acton was where we shopped for groceries [Ledgerís IGA] and went to the public library, [only open Friday evenings and Saturdays] and where we went to church on Sundays [Knox Presbyterian, Rev. Mr. A. Mackenzie.] It is also, where we ordered our mail order catalogue wardrobes at Eatonís or Simpson Searsís offices. In the summer, we swam in Fairy Lake. The Acton Fall Fair was entertainment we looked forward to every September. My father worked in the Beardmore Tannery.
I have written and published a book which is set on our old farm. So I checked the Internet to see what it had to say about Acton and stumbled on your site. Wow what a moving experience it was to read all you had to say about Acton. Thank you, thank you thank you. My brother Walter was a lineman for Ontario hydro. He was married to the late Cathy Mackenzie of Mackenzie-Smith Bennett school fame. [The school was named after her father.] I was Miss Acton Fall Fair 1965.
Antoinette Tryssenaar Villa author of A Kaleidoscope for June
My website is: www.kaleidoscopevilla.com
---
Hi Ann and James
Just wanted to let you know, I was just surfing the net and decided to look up where I was born and lived until I was 5 years old. Lets just say I am much older than that now. Came across you website, brought back a lot of memories.
I was born in Quelph General, ( maiden name Ross, parents Georgina Lucy and Ian Murray Ross) (at the time) back in 1954, my parents came from Scotland with my sister and brother. Do not remember much but my parents used to come and visit yearly after we left for New York when I was 5. They had friends there, Patty and Maimie Dick. Their children were Gerald, Sally and Dugald Dick (he still lives in the Acton area). I know Patty and Maimie are deceased and I believe Gerald died in a car accident at a young age. I am not sure if Sally and Douglad are still in Acton or maybe nearby. I remember a little luncheonette on Main Street that we used to frequent a lot. By looking at your pictures, I believe it is the place which is a Pizzeria now.
I also remember almost drowning in Fairy Lake as a child (must have been around 2 years old). My brother used to go ice skating on the lake in the winter, I do remember the winters being very cold and my mother putting me outside in the yard in a carriage, clothes on the line looked like icicles. In the summers after we moved to New York, we used to meet Patty and Maimie at Kingarden (I think that is how you spell it) I don't even know if it is still in existance. I remember a lot of good times there. The last time I was there was about 30 years ago, when my daughter was almost 1. I guess I was feeling nostalgic and thought I would send you a line or two. Email sheba2340(remove spam)@aol.com.
I also remember a place called the Tannery, I believe my father worked there when he came to Canada. I really enjoyed looking at your photoblog and the panoramic photos, thanks for the memories as Bob Hope would say. Evelyn Scuereb (Ross)
---
...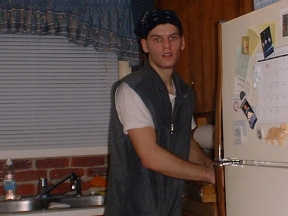 ...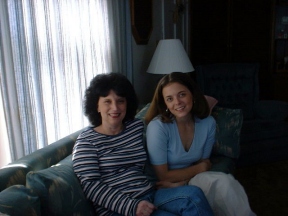 .Stan and his family dropped by our web site to say hello. Here they are.

---
Deborah paid a visit, she is "a Hamilton" (before marriage that is, but once a Hamilton, always a Hamilton). She has a great web site with lots of information on Hamiltons. I noticed her family crest and their motto "Through" and asked her about it.

Update 2009: I received an email from some program called The Locator this morning, with a questionnaire, they are interested in my search! I don't even remember contacting them, but I have contacted so many people in the past, it isn't surprising. I had actually removed my video and given up, that is why I had to re post it with a new account. Their letter sparked my hope again. Someone is joining in the search - maybe Debgorah can find information on William Hamilton.
UPDATE: Hello. I am the same Deborah you mention passing through, whom told you about the Hamilton motto and crest etc. I noticed you had had a link to a page I had? I assume it was a familytreemaker one, but I also had an msn one for a couple of years. Both I deleted quite some time ago. Anyways, I don't know if you will remember this, but I was searching for any information about my father, William Hamilton. He had disappeared when I was a small child. I have since made a short video, really, a slide show, in his memory and thought I'd give the link to you. (I have it on youtube). If you want to link it to your Hamilton page, please do so. I still have not discovered what happened to my father. The Sun was supposed to run a story on missing persons in Canada, last Feb, and were going to write about his case, but after the interview, I have not heard anything further on that. I am still hoping though!
So, here is my link...http://www.youtube.com/watch?v=NFN9S2xCO_M and keep on keeping on! (Isn't that sort of a version of Through!? :) Bye for now. Your "Hamilton Cousin" Deborah :) djr2588@gmailNOSPAM.com, remove NOSPAM to contact Deborah with information that can help her search.
---
Corrine said hello from England - she said "I think your website is brilliant." I also agree and am glad you dropped by. She asked what was it like to live in Canada and I told her...
Wow, thanks for your kind review. We love it when people stop and tell us where they are from. I trust you had the Queen Mum (it was her 100th birthday) over for a barbecue?
Canada is very nice, although I really don't care for the winter! Mostly Canada is forests and open spaces, farms and the occasional small town. We do have large cities, such as Toronto, Montreal and Vancouver which have large urban areas, industrial and commercial developments and the popular suburbs.
In Ontario the area around Lake Ontario is called the golden horseshoe. This area has pretty high density and most of the industry of Ontario (and a large part of Canada). We live in a small town (now over 10,000) of Acton that is within the Greater Toronto Area (GTA)- which means part of the urban sprawl and a sleepy little bedroom town. Acton has been the site of leather companies for a long time and the "Olde Hide House" advertised a lot on television, the phrase they used was "it's worth the drive to Acton." Most people outside of Acton usually haven't been in the Town although if you mention Acton everyone always asks if it's worth the drive!
I love it in Canada - although, like anywhere you can always find something wrong; taxes, winter (did I mention that I hate winter?), the commute, whatever.
My father was in the Canadian Army so my family moved quite a bit throughout central and western Canada. I found the prairies to be a wide open flatland which I would think to be pretty boring, but I imagine that a lot of people would like the space. The west coast is beautiful with it's mountains and it's access to the Pacific Ocean. I haven't been to the east coast yet so I can't really comment on that side.
There is a little bit of everywhere and everyone in Canada so enjoy it if you can.
ps: we do say eh, at least I do, eh.
---
We have become webpals with a family from Australia. She recently noted that "I have just been looking at your website. Congratulations about the soccer. My husband Mark is a referee over here and we have just finished a weekend competition with 50 teams from around the state of New South Wales. Very enjoyable but tiring. Good luck with the coaching, you should have a lot of fun, as well as keeping fit. Got to go, will keep in touch if I can manage to find time to sit down and write."
Lisa and the Pearce Family.

---
"Was searching for some Hamilton family info and came across your page. Very nice work! My wife, Marie
Lambert, of Acton, has Hamilton connections. Her mother, Myrtle, wife of Earl Lambert, came from Wellington County
(West Garafraxa Twnsp). Myrtles father was William Hamilton. 'nuf history. Thanks for allowing me to visit." Allen D. Mochrie - Mississauga Ontario.adam67@(nospam)netcom.ca. - remove the (nospam) for his email address.
---
Herb Hamilton (Theinstitute@webtv.net) is trying to find a connection to Sarah Switzer, she came from Holland and migrated to Canada - entered through Nova Scotia then moved on to Ontario and married a Hamilton. Later she immigrated to US and resided in Watertown New York were she passed away in 1955.

---
Love your page we are a Hamilton family of four living south of Trenton, Ontario in a village called Gardenville in Prince Edward County. The family members are Shawn, Yolanda, Brandon(12) and Samara (10). we live in an old Gospel Hall that we renovated into a house in 1990. I know where Acton is as I went to the Sheridan College in Milton. I am currently enrolled at Loyalist College in Belleville through WSIB for a 3 yr. course in Computer Programming/Analyst. I am in my second semester.

My wife is an RPN who is a charge nurse at Montgomery Lodge in Belleville, she also works for VON and owns her own business called Quinte Electrolysis, which she operates out of the house. My son Brandon is in Grade 7, belongs to Air Cadets and is a green belt with black stripe in Karate. My daughter Samara is in Grade 5, takes guitar lessons and is a green belt in Karate.
Really enjoyed your sense of family on your page, well done.

I have enclosed a picture of Brandon working on a chair for school for science that had to be made out of recyclable material, Samara doing what she loves best-reading and some pictures of the house after snow fall on Sunday Jan.26/03.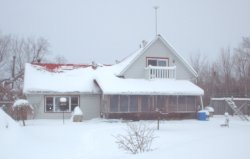 .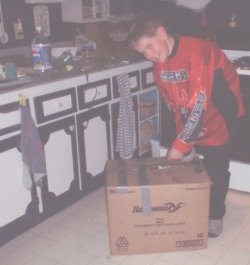 .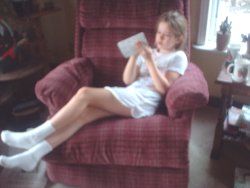 All the best to you and your family. Sincerely Samara Brandon Yolanda Shawn

---

Deb also dropped by........I have visited your site and I think it's great. I was born a "Hamilton" too. I am from Williamport, Pennsylvania. (Famous for the Little League World Series). I think your artwork is beautiful also.

---

Some greetings from exotic Malaysia........I have seen yours website. Its very fantastic and wonderful. Get through your experience and photo...make me feel so close to your family. Send my regard to your wife. I like her painting. And also your lovely kids, Kevin and Erin. Erin is so cute. Like to hear from you.

NASA
malaysia

---

Hi there, Hamilton Family! I really enjoyed your web site and pictures of Acton, especially the gorgeous one of Fairy Lake. The lake and Acton are very special to me; I have been a long time friend of the Daley Family who have also lived there some 40 + years. Marty Daley was one of my best friends; he sadly passed away this past January. I still drive to Acton as often as possible to visit his mother Mary Daley, a very precious senior and dear friend of mine also.

Marty and I used to fish at Fairy Lake. I have arranged to have a memorial tree and plaque planted by our favourite fishing spot. I have just learned it has been put in today, and I look forward to surprising his mother with this little tribute I hope will be a small comfort to her. Marty was an extremely unique person, and all of us who knew him loved him dearly and will always miss him. I sent you a couple of pictures of us - the one at Fairy Lake is right where the tree has been planted. Thanks for sharing the pictures of your lovely family! It's really nice to see people happy where they live, and proud of their home town.

p.s. I used to ask Marty did he ever think of moving out of Acton. He would always reply, "Nope! You can take the boy out of Acton, but you can't take Acton out of the boy!"

Sincerely,

Karen Riggs

---

hi I am Kym and i come from Scotland I really like your website

---

Good day to your family, my name is Jiri (George) and I am from Czech Republic. I have seen your web pages, it is very nice place on the net. My family and I live in the Town of Neratovice, 25 km far from our Capitol city of Prague. The reason I contact you is my daughter. She has been learning English for several years. I look for a girl to mail with her. She is fourteen years old in 8 grade of school. Her name is Tyna.

If you will decide yes for this contact, send me a message please. I will return her e-mail address to you. Sincerely, Jiri.

My www pages with some photos: http://www.jiriblaha.wz.cz
We have had visitors from all over the world including...........

---

Good morning, Ann:

This morning I have been cruising the net looking for a small map of Acton that I might put on the back of a new business card. I came upon your site (nicely done!) and thought to drop a note.

My wife, Ellen, and I will be retiring from health care in Sarnia on March 24th and, on the 29th, we take possession of a new bungalow in the subdivision north of Highway 7 near Acton's arena.

---
Hi the Hamilton's.

Just an old Wrinkly from England surfing in just to show I can.

I loved your site especially the photos, not seen them all yet but I will be back for a longer look. I couldn't get that many on my site without slowing things down to a crawl.

Your environment looks great, just the place I would have loved to have been fifty years ago.

Your kids might get a laugh from the Potty Poetry Page on http://occleston.com but they will have to ignore the Grumpy Old Man Page as that's where I do all my moaning.

Weary Wally alias Walter Occleston

---

Dear Ann,

My name is Carla Hamilton. You have a great site. I was trying to research my family background when I found your site. I think we might be related because my family motto is "through" also. Some of my ancestors are Lady Emma Hamilton, Lord William Hamilton, and Commadore John Barry. I've been trying to research more about my family for the past two or three years. It would be great if you could email me back if you want to talk and it would be cool if we were related. So if you get a chance i would appreciate it.

Thanks,
Carla

---

Hi there Hamiltons, :-)
My name is /*Phill *//*Hamilton*//* Fraser Rogers */and I live in Dundee, Scotland.

Myself and my family will be staying in Acton this year for 3 weeks during July 2005 with my Uncle and Aunt (Jim and Joan Phillip) who have lived there for many years. I also hope to visits my cousin Kenneth Phillip who still stays in the area, Guelph, I think.

I have only ever visited Canada once and I stayed in Acton for 3 weeks before, way back in 1989 with my Mum and sister and I instantly fell in love with it back then and wanted to bring my own family across.

So after along time I am returning to Acton with my wife Paula and my two kids Cassi (12) and Jack (9). Of course we will be doing all the usual tourist stuff, Toronto, Niagara and up to Wasega Beach again,but will be traveling around the local area soaking up the scenery.

My wife and myself have always had a strange affinity with Canada and the many comparisons that can be made between Scotland and itself.

On the subject of the name Hamilton, I was given the middle name in honour of my great grandfather *John Brown Hamilton* of Cambuslang, Glasgow, on my fathers mothers side. He was a first world war hero and was highly decorated by the King of the time. I have provided a link to show you a little about him and his heroism. http://en.wikipedia.org/wiki/John_Brown_Hamilton
His medals including his Victoria Cross (VC) for battles along the Ypres-Menin Road 1917 are at present being held in the National War Museum of Scotland in Edinburgh Castle.

We have recently stared keeping a BLOG of our own if you would like to take a look. It is not much and is used to keep our folks in Acton up to date with our goings on before we arrive. We also fully intend to post a lot of diaries and picture of our trip on this site to let others know of our travels. http://www.phillrogers.co.uk

We have been watching your site for a wee while now and have loved it. We also have been keeping an eye on the weather as well.

You never know we might just see you around Acton in the coming weeks.

Cheers for now,

Phill Paula Cassi & Jack Rogers

---
It's also great to see fellow Actonites put up pictures on the web. It looks like they had a great honeymoon in Cancun!
Hi,
We came across your website while looking for pictures of Acton to share with relatives who live in other countries.There are so few pictures of Acton on the web (do you know of any other sites?) I thought yours was great and added it as a link on my MSN Space. I hope you don't mind!! Thanks for sharing. You can check out our little page here
http://spaces.msn.com/members/michelleanddave
Dave & Michelle.

---
The pictures on your web site are great! Thank you. I have been working on my genealogy for many years and just happened to see your web site. My great grandparents, John and Agnes (Perkins) Lambert were from Acton. She lived on Bower St., not sure where he lived. Still working on all of that. Also nice to know that Acton is now Halton Hills, I've researched their web site but did not realize the name change in towns. It was so nice to see some pictures. Makes me feel a little closer to them. Thanks again.
Kathleen from Massachusetts

---
I was just reviewing your website on Acton businesses and found it very informative. I love that you show where the businesses are, a small picture of the location, and list all the phone numbers. I had a few places to call in Acton and there it was - all on one page!

---
Hi Ann
I finally got the chance to check out your work. Very impressive!
Great site! Chris

---

Hello Hamiltons,

I fell in love with your website. All those pictures of Acton sure brought back some memories. I used to live in Acton many years ago with my parents, brother and sister but moved away around 20 years ago. We still keep in touch with some friends there but have lost contact with many as well. I currently reside in Chapleau Ontario but make it a point to visit Acton every time I'm down South.

Keep up the fantastic work on the website, I will be popping in often.

Take care,

-A.j. Bowes

---

HI Hamiltons

Great website you have,compliments.
My name is Sijbrand Ancker and I live in Dronten in the Netherlands and I have visited Acton about four times in the seventees. I had some very good times when I was there and it brings back very good memories.

When I was in Acton I stayed with the Ancker family who used to live at 61 Elizabeth drive near the fairy lake. The Anckers are from Holland (Netherlands) and immigrate to Canada in the fiftees. They had two daughters (Joanne and Susan)and a son (John).
Sadly I lost contact with them but I sure would like to hear from them,perhaps you know where they live or you have an E-mail adres of them? They would be about fifty years of age now I think.

I sure would like to come back to Acton for a visit and maybe meet some some people that I still remember. Greetings from Holland

Sijbrand.

---
Gary sent us a note - his father was part of the history of Canada with his involvement in the AVRO Arrow project. I am hoping he will send some pictures into us so that we can put them up on the website. (He did, see below).
Hello Hamilton Family! I lived in Acton from 1955 to 1959. My parents immigrated from Scotland in 1950. I was born in Weston (I guess York now) in 1954. We had a house built at 71 Roseford Terrace the following year. My father worked on the AVRO arrow (as an experimental mechanic) and you know the story.
We moved to Los Angeles and I have lived in California ever since. I have been back to Canada 14 times, but always British Columbia as that is where relatives are. I can remember Acton and have many pictures. I wish we had never left. Would love to hear from you. Gary.
Gary found some photos of the Arrow for us. It is also an amazing coincidence that they unveiled a full size replica of the Arrow just this week in Toronto.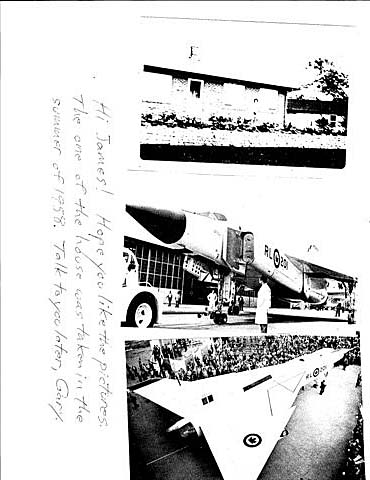 ---
I love your website, Its great someone loves this town enough to make a website. A suggestion is to put in Mckenzie Smith Bennett which was my school up until this June when I graduated. If you need some pictures I do have a few, and you should put some churches in it, but otherwise it is great!
Lilreta L.
PS I took Lilreta's advice and added a page on the schools of Acton. Thanks for your advice and comments.

---

Hello Ann,

I'm moving to Acton in a couple weeks and found your site quite helpful!
What's the Graphic Design scene like there? Is McNabb Graphics a marketing/design house? I couldn't find a website for them, so I'm not sure what it is they do... (I'm a G.Designer by trade and often do freelance stuff when I can or when I'm hunted down for my services.) I'm also listed on 'Artists in Canada' and have seen your artwork. Glad to see art is alive in Acton.

Thanks,
Cam.

---

Hi

I am Teri Woods (nee McCaslin) I was born in Guelph and live in Acton until I was 12 years old (now 23) I would love to come back to see how things have chnaged. I live in Belleville Ontario now. I went to MZ Bennet (grade 2-grade 5) Teachers were Ms. Bannerman, Ms. Weins, Mr Watson, Ms Graham, Attened grade 6 at McKenzie Smith home room teacher was Mrs. Raymond and principal at the time was Mr.Logan. Missing friends from Acton that i have lost touch with. We lived on Longfield. Lovely place. Loved the Fall Fair (what is the date this year) and loved the Santa Parades.

Look forward to hearing from you!

Teri

---

HI , MY NAME IS CATHY MY DAUGHTER AND I WENT TO ACTON FOR TWO WEEKS, I COULDNT BELEIVE HOW GOOD WE WERE TREATED, AND MY DAUGHTER TARA FELL IN LOVE WITH PLACE AS WE GOT THERE. WE HAD COME TO VISIT MY SISTER AND HER HUSBAND, THAT TREATED US TO THE BEST, I REALY LIKE YOUR TOWN HOPE THAT IT CAN STAY LIKE THAT FOREVER.FROM THE TIME WE GOT BACK TO NFLD, NOT A DAY GOES BY THAT SHE WANTS TO MOVE TO ACTON, ONTARIO.SO WHO KNOW WE MIGHT BE A PART OF YOUR TOWN SOME DAY(IF YA LET U)LOL HAHA.

THANKYOU CATHY

---
My name is Kimberly DeMonaco, and my Dad's name is Barry Sutch. He received a gift from a woman named Virginia Snow, she lived in Callery, Pennsylvania. The gift my Dad received was two charcoal drawings depicting Mr. and Mrs. Hamilton, the drawings were done by the daughter, with the initials of AMH. It is the desire of my Dad to get the history behind the pictures. The portraits appear to be done around the 1800's, determined by the clothing of Mr. and Mrs. Hamilton.

Virginia Snow told my Dad that the parents came to America from overseas, and that the portraits were done by the daughter.


Please let us know if you have any information regarding these charcoal drawings.

Thank you for your time.

Kimberly DeMonaco kdemonaco@(nospam)yahoo.com - remove the (nospam) for her email address.
Barry Sutch

---

So I'm trying to find a little blurb about Acton, to link from mywebsite, to tell the world about our company's namesake. I tried the BIA and Chamber sites, and they're all Blah, Blah, Blah. Your site on the other hand is excellent. Lots of colour, beautiful photos, and concise, well rounded information.

I realize, however, that it is your family site, and am hesitant to link to it without your consent. Great job though. The town and businesses should be paying you for it.

David Turner, Acton Precast Concrete Limited
1-800-461-1516

I told David to link away and I added his business to my website - Acton stores.

---

My name is Alan and I am a part-time fire fighter for the town of Acton. I was surfing the internet looking for companies to sponsor
our annual fire fighter's ball when I stumbled on your website. I was impressed with your painting and wondering if you had a local painting you would be willing to donate to our ball?? I have attached a copy of the donation request letter we send to local businesses.

Thanks in advance for any consideration
Alan

Ann donated a framed print of a lighthouse to the event.

---

Hi,
My name is Damian, and I live in Rochdale England. Your site is fabulous and must take a great deal of time and work to maintain. I was searching for a site containing Acton Ontario as part of my delving into family history and your site is by far the best. If it
is OK with you could I leave the info that I know, and perhaps it will mean something to others.

My Great-Uncle Edward Kenny married Lena Sharkey in Ardstraw, Co Tyrone, N. Ireland. The couple then emigrated to Acton Ontario, where they opened a boarding house, this was probably in the nineteen twenties. I believe that they later moved to Adelaide Australia. Edwards brother Paddy also lived in Acton, and joined the Canadian Armed Forces at theoutbreak of WW2. He was posted to England, where he met and married a young Irish girl, and after the war they returned to Canada.

Thank- You again for the great website, I will continue to visit in the future.

---
Harold is looking for a relative that moved to Acton in the 20's.
l live in UK and I am trying to find out about my great uncle Evan Jones (from Wales ,born in 1884 and supposedly had a son Vernon Jones) who I am told by relatives in Manitoba, emigrated to Acton, possibly in the 1920s. His brother Richard settled in Manitoba and another brother William went to BC.
All I know is that he had a small farm, was married in Canada and had a son Vernon. Family lore states that he became mayor of his townsip but I dont know if there was any truth in that.
If you can help me in any way or point me in the right direction I would be extremely grateful.
Very best wishes and thanks from UK.
Harold Davies: HBDavies@(nospam)aol.com - remove the (nospam) for his email address.

---
Another Acton Family impacted by the famous Avro Arrow cancellation.
I was browsing for info on the Avro Arrow, as I was just talking to my brother the other day about Acton, the Arrow and all that as he was born in Canada when our father worked for Orenda on that feted and fated project engine, plane. We left Canada in 1959 and returned to UK as my mother would not go to California or North West America as my father could have as a experienced aeronautical engineer. We would often talk about the years we spent in Canada and latterly living in Acton town itself, we lived in Meadvale Road the first bungalow in the Road.
I have many happy memories of my formative childhood in Canada and of course Acton. I have looked at the photos and remember much of the town and area,
learning to swim on Fairy Lake etc.
I have been back to Acton to have a look around, first in 1991 and then again in 2003 with my brother who has no memories of his time there. On both
occasions I was surprised to hear how the memories of when the Arrow was cancelled by gross incompetence on the then governments of the day. Many
people told me about how it had affected them and their families. I do recall my father saying that 14,000 people being given 1 hours notice to quit the plants, would have a affect on many 100,000's of individuals and families. And was it ever so true.
We as a family were very sad to leave Canada, and there was an article inthe Toronto Star, showing my parents and my brother, I was asleep in bed
when the journalist arrived. Methinks on reading it now they used the usual poetic licence that they often do, and made out that we were leaving because
UK education system was better, I do not think that my parents ever said that. I do know they were very sad to leave the country and were so sorry to
see so many friends and colleagues in Canada go through a very difficult time financially etc. I know that my parents did suffer financially too, as the house they had bought in Canada was sold at a very great loss eventually, sometime after we had left Canada.
Both my parents are now dead, but without doubt the time we lived in Canada was a very memorable one. Good luck with your site and the very interesting linked info that it contains. Happy New Year and may the coming year prove to bring less war and conflict and most of good health to all..
Thank you for your time of setting this up for the world to see. maybe I will visit in the coming years again as I retire in a years time.. Louise Forster louiseforster@(nospam)talktalk.net aol.com - remove the (nospam) for her email address.

---

I just found your web site, excellent site.

C.R. Hamilton MS, SONAR Operator
HMCS CHARLOTTETOWN

And our thanks go to our military.

---
Our visitors have come from some of these countries (and many more).
.USA France Czech Republic
Canada Netherlands Greece
Australia Sweden Isreal
Scotland Singapore Poland
Japan Germany Malaysia
United Kingdom Norway South Korea
Spain Belgium Mexico
Lithuania Estonia Ireland
England New Zealand Luxembourg
Brazil Argentina Hong Kong
Let us know where you are from and don't forget to send some pictures. Thanks, the Hamilton Family.

---