| | |
| --- | --- |
| March 31, 2007 | Hershey Chocolate Factory |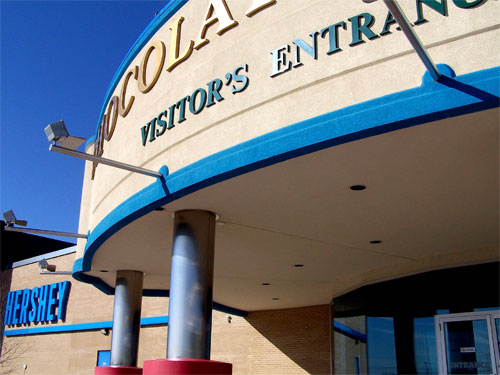 It was a superb weekend and we took full advantage of the weather on Saturday when we went east - to Smith Falls and Kingston, then along the St Lawrence River. We had wanted to tour the Hershey Chocolate Factory located in Smith Falls - but we had missed it last time, so this time we set out at 4 in the morning! Joe rented a van so we could all fit and the kids would fought a little less because of the additional space.
The factory will be closed sometime in 2008 and, to our disappointment, the chocolate lines weren't up and running on the weekend.
We drove around Smith Falls, where my younger brother was born, and later went into Kingston. We lived in both of these towns as my dad was in the Canadian army and these places were close to, or in CFB Kingston. The area is also home of the historic Rideau Canal and the many locks in the system.
In Smith Falls there is an old railway lift bridge that has been abandoned - the bridge is up so that ships can pass through the canal. It reminded me of one of the Star Wars walking fighters due to it's size and shape.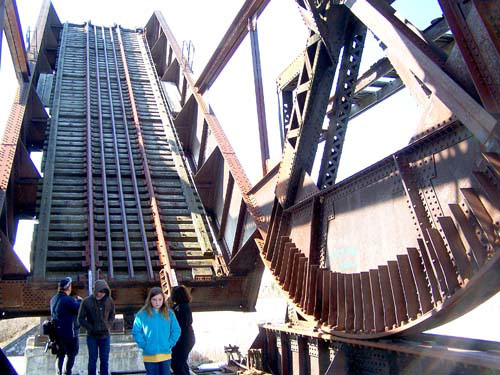 The following picture shows one of the empty locks with the bridge open in the background.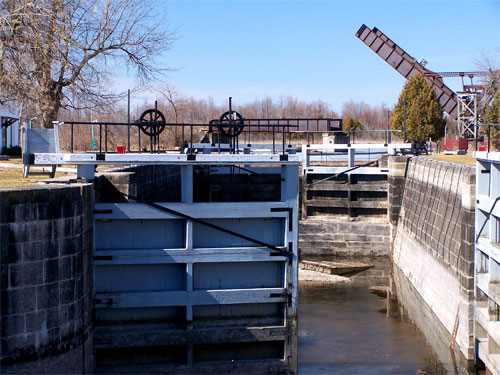 After Smith Falls and Kingston we followed the St Lawrence River and the Loyalist Parkway to the west and explored the area including Quinte's Island (reached by ferry) and the mysterious Lake on the Mountain.