| | |
| --- | --- |
| March 9, 2007 | Can you hear me Scott? |
I have long been a fan of Scott Adams' sense of humour and his famous comic strip - Dilbert and also of his Dilbert Blog.
Scott has set up a Google Alert for when his name is used on the net so I thought it would be cool to talk to him through my webpage. Instead of sending him an email of appreciation I thought this would be a novel way to communicate - when this page is posted to the internet he will be sent an alert with a wink to this webpage. Besides he probably has to wade through tons of crap email in his inbox and he might delete mine by accident!
As an added bonus I have drawn a Dilbert frame with the idea that Dilbert has attended a Elbonian management training course by accident and has let it go to his head. Dogbert and Ratbert have to stage an intervention to bring back Dilbert - away from the darkside.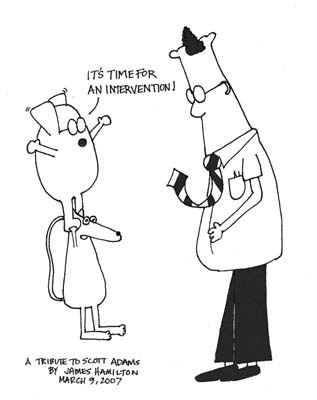 No contact from Scott yet.