While Acton is a small town it enjoys the benefits of being close to major population centres like Brampton, Mississauga, Milton and Guelph. You can shop in town for almost anything or head out on a small drive for all the shopping that you might need. Later in the evening we roll up the sidewalks and head to bed.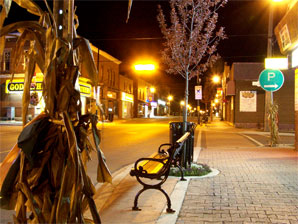 My dad was in the army so we often moved across Canada to his various postings and Ann's dad was with Hydro and she also had to move quite a bit - so we decided to stay with the kids in a small town. Yes, a place where they could grow up and walk where ever they wanted to go. Unfortunately they don't want to walk, luckily they are not old enough to have cars so they don't have much choice!
While there are no large malls to hang out in kids can still have fun working - just like their parents. And besides that, they can always go to the arena - they also put on a few teen dances during the year, the skateboard park (when it is ready) the pool and the "Off the Wall" community youth centre. Movie theatres are close by with the largest big box type in Milton at the Galaxy Theatre (20 minutes away). They can also go outside and just get some fresh air!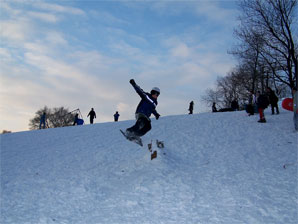 Curling is a big part of Canadian culture which I admit I did not participate in as a kid. Ann has always wanted to play so we signed up at the Acton Curling Club and we have had great time. We are slowly learning how to play and have really enjoyed meeting all the people who show up to curl, plus it is great excercise. We have even got Erin taking lessons with her friend this year. Now I can even watch it on TV!
You can also feed the ducks, geese and the occasional swans that make spend some time around Fairy Lake. I feed the ducks and baby geese in the following videos.