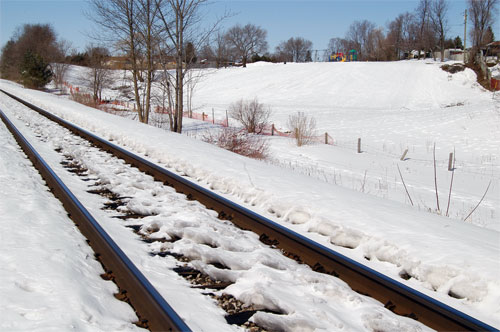 Sir Donald Mann Park is a great little park off of Mowbray Place - a crescent along Longfield Road. It includes a ball diamond and a children's play area. The south edge of the park drops off with a large slope just made for sliding and tobagganing.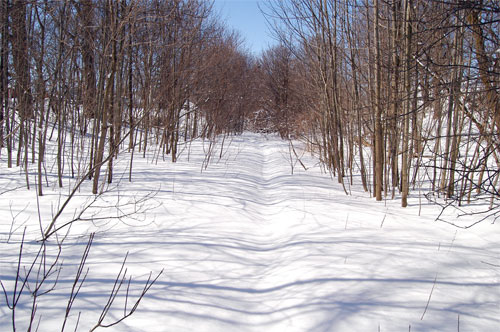 The old Grand Trunk Railway (now CN Rail) spur route leads off the main line south of Highway #7 and heads west towards the old Beardmore Tannery property. The rails have long since been removed although it remains a well traveled route with hikers.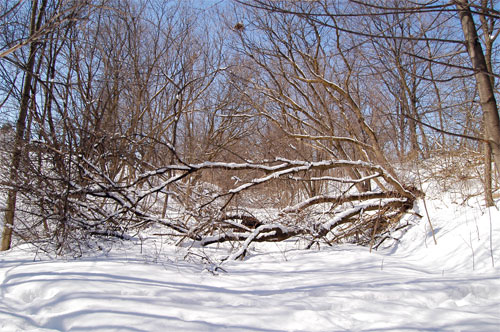 As the spur line route travels between Hillcrest Street, Poplar Ave, Queen St and Eastern Avenue the path becomes littered with fallen trees. Small paths lead between the branches so that you can continue your walk.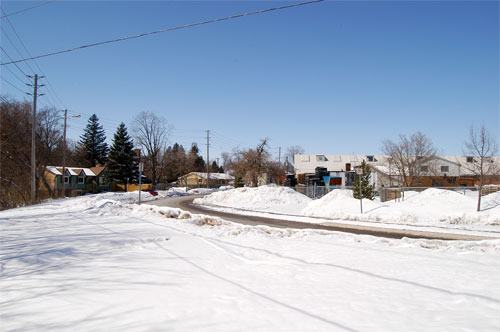 Taking a path exit at the intersection of Eastern Ave and Queen Street we look north towards the Olde Hide House (right side of picture). The path entrance is right beside a hydro pole on the corner (off camera to the left).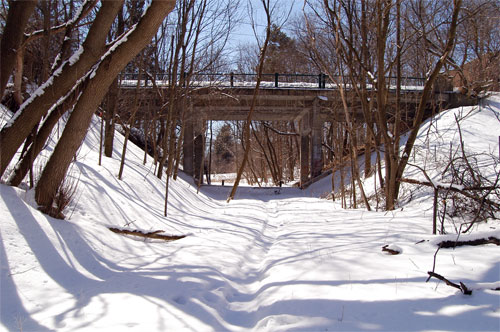 The Maria Street bridge that ran over the Grand Trunk Railway spur line sits without a purpose - except to continue the path. However the bridge is having some maintenance issues and the town has put a row of concrete barriers along one side of the bridge.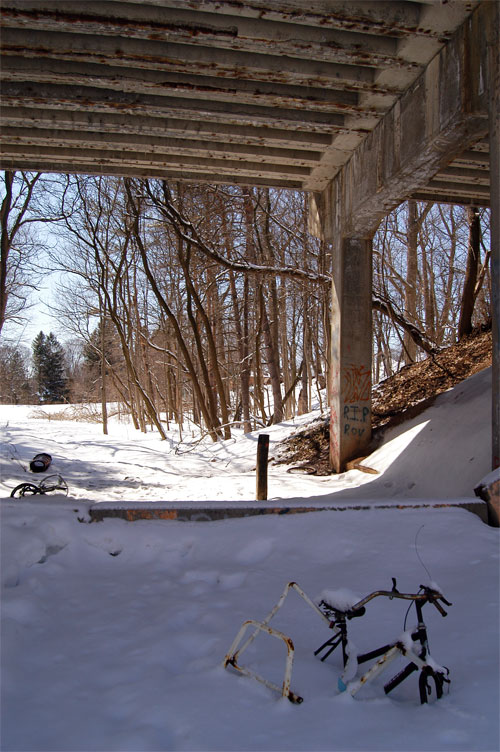 You can see the concrete barrier just past the abandoned bike. This place has a bunch of graffiti and seems to be a dumping ground and sometime hangout for kids.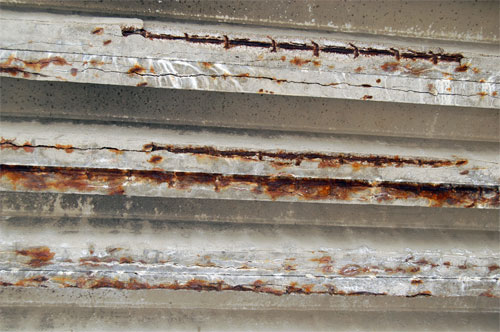 The underside of the bridge shows large areas where the concrete has broken off and fallen to the ground, exposing the bridges rebar system. Typical of many Canadian bridges the winter use of salt enters into the concrete through voids and starts rusting the steel rebars which are close to the surface. The expansion of the rebar by rust eventually cracks the concrete which falls to the ground and accelerates the slow destruction of the bridge. Keep your eyes up to avoid any falling concrete!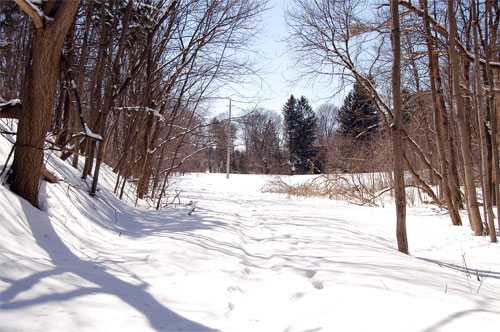 Making our way past the bridge the path opens up to a large flat area which used to house the former Beardmore Tannery community centre and arena. Ahead is Frederick Street South and past that is the Beardmore Tannery property.
This brings us back to the northerly end of the pathway loop and back to the path running in front of the tannery property leading to Agnes Street.